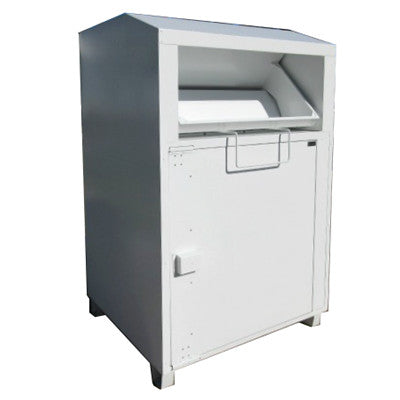 Textile / Clothing Collection Bin with Large Spring-Loaded Rotating Tray - CB14G16
Item: #CB14G16
---
IN-STOCK: Usually ships in 30-45 days depending on stock availability
---
For orders more than 24 units please call 888-671-7066 for a discount
Textile / Clothing Collection Bin with Large Spring-Loaded Rotating Tray - CB14G16
The Securr Textile Collection Bin is heavily constructed with corrosion resistant materials and high-grade powder coat. 
Corrosion resistant 16 ga galvannealed steel
Internally reinforced
Shrouded and lockable latching mechanism
Dual point locking mechanism
Easy to use spring assisted loading chute 
Can be bolted to the ground
Smart Bin capacity monitoring also available - call for details
Replaceable doors
MECHANICAL SPECIFICATIONS
All handles, striker plates and hardware are zinc coated for corrosion resistance. The housing and doors are made from corrosion resistant steel and are finished using a textured powder coat process. The finish is resistant to humidity, salt spray, fog, ultraviolet rays, abrasion and chemicals. 
---
Specifications
Product Name Textile / Clothing Collection Bin with Large Spring Loaded Rotating Tray - CB14G16
Manufacturer name: Securr
Item # CB14G16
Weight 525 lbs
Assembled Width 46 in
Assembled Height 83 in
Assembled Length 52 in
Shipped From Ontario, California 91761
Warranty 1 year
---