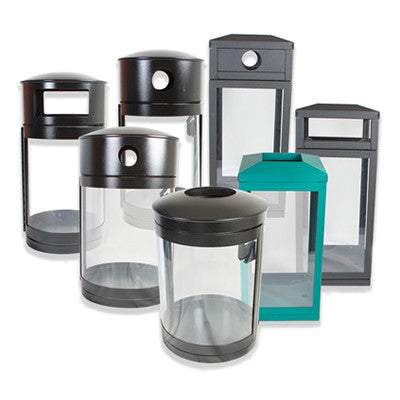 Homeland Security Compliant Trash Cans, Clear Trash Cans & Recycle Bins
---
Homeland Security Compliant Trash Cans, Clear Trash Cans & Recycle Bins
Homeland Security Compliant Trash Cans & Recycle Bins
Recognizing the need for secure solutions at high traffic, public transportation centers, the Department of Homeland Security (DHS) issued a directive requiring protective measures to be implemented by passenger rail operators. SECURR ® has stepped up to this challenge by designing user and maintenance friendly Homeland Security compliant trash cans and recycling receptacles. The directive issued by the DHS Press Office states; "At certain locations, operators will be required to remove trash receptacles, except clear plastic or bomb-resistant containers".
Using only the highest grade polycarbonate, the .236 thick clear plastic side panels on Securr's Homeland Security compliant trash and recycling receptacles won't yellow, are scratch resistant and have a very high heat resistance. When used with clear bags, the contents are easily viewed by law enforcement and protective services. Also available at a lower cost are .093 thick polycarbonate panels.
---
Homeland Security Compliant Trash Cans
The clear sided receptacles Securr offers are Department of Homeland Security compliant and provide a ready solution to the problem. Because the contents of the trash can are clearly visible through the see through panels, bombs and other threatening devices can not be concealed within. These panels are made of special materials that have many times the strength of ordinary clear acrylics. Durability is the watchword when it comes to all of Securr's products. The frames are constructed from galvanealed steel. This industrial process imparts the same corrosion resistant qualities that come from galvanizing metal but with the added bonus of leaving a surface capable of accepting a powder coating. This makes them suitable for painting or the application of vinyl decals.
Because Securr designs and manufactures all of its products at its production facilities at Ontario, CA, it is possible for them to customize orders to the customer's request. They can paint a company logo on the surface or laser cut such ornamentation into the surface. They can fabricate vinyl decals to virtually any size or shape.
If your city of community has questions about Homeland Security Approved trash cans and receptacles, contact Securr Trash Cans at 888-671-7066 to discuss the approved Guardian Series Trash cans or other products approved by DHS.