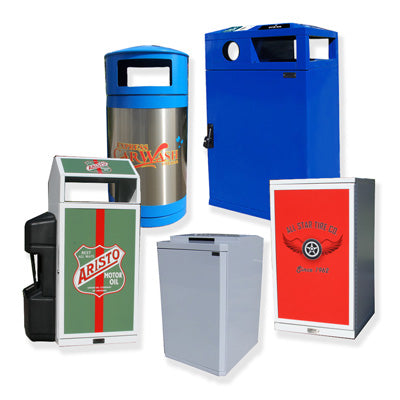 Customized Trash Cans and Recycle Bins
---
Customized Trash Cans and Recycle Bins
CUSTOMIZED TRASH CANS AND RECYCLE BINS

EVERY PRODUCT WE MANUFACTURE CAN BE CUSTOMIZED WITH YOUR CHOICE OF POWDER COAT COLORS AND GRAPHICS OPTIONS.
Do you want bins that blend in and enhance the appearance of your environment? Many customers find that waste receptacles can serve as far more than just a place to dispose of trash or recyclables. By adding a custom color, laser-cut panel, plastic wood trim, logo, messaging decal, vinyl wrap, or other design element, trash cans and recycling bins can serve as an effective marketing or branding tool while actually improving the aesthetics of the environment. Please contact us for assistance in creating your customized look.
CUSTOM VS. Customized
Beyond offering customization with color and appearance options on our extensive range of waste receptacles, SECURR can offer design modifications or even new custom product designs in cases where the order quantity is sufficient to justify the design and development cost. Obviously, it is not feasible to create custom products for low volume requirements, but if you have a large project requiring many receptacles and need a custom solution, we may be able to help.
Due to our in-house solid-modeling design expertise and our modern fabrication capabilities, we have the resources needed to create custom products. If you are ready to learn more about custom trash cans and recycling bins and have a large project in need of a custom solution, we invite you to give us a call at 1-888-671-7066. We will be happy to help you explore your options.