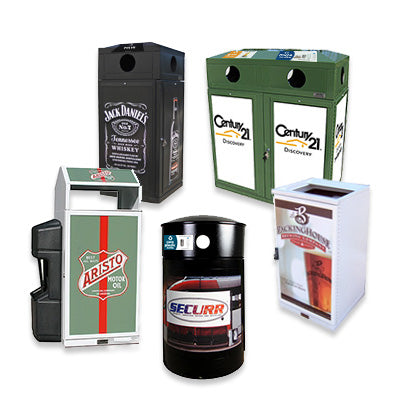 Trash Can and Recycle Bin Advertising Solutions
---
Trash Can and Recycle Bin Advertising Solutions
Enjoy a first-hand view of the latest solutions to turning trash cans and waste receptacles into income sources. Prefer to read? Please see the video transcript below.
---
Video Transcript: Outdoor/Indoor Trash Can Advertising
Many businesses and organizations are realizing that trash can advertising can provide a platform for messaging, advertising or branding. Wherever a waste receptacle is required, why not get more return on your investment by having the trashcan serve another purpose as well?
You may wish to turn your trashcans into revenue-boosting advertising space.
SECURR advertising receptacles feature frames to hold standard print shop media that is removable and replaceable whenever your desired message needs to change.
Or you can opt for permanent messaging or imaging, which can be any digital image you desire displayed on your custom waste receptacles, thereby giving your facility a more polished and professional appearance. Imagine having your company logo displayed on your own custom receptacles, powder-coated in your company colors.
Another option is to have any image of your choice, such as your organization's logo, laser cut into customized panels for a unique and upscale solution.
Whatever your requirements, SECURR has a broad range of models in various sizes, shapes and configurations to meet you specific needs.
SECURR can work with you to meet your advertising or custom graphics requirements.
For more information, give us a call, or visit the SECURR products website at trash-cans.com
Please call Securr today for a fast and friendly quote for your trash can advertising!