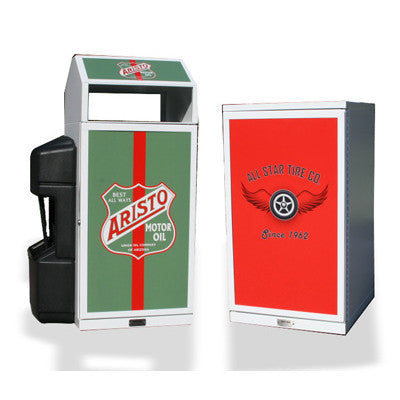 Convenience Store Advertising Trash Cans & Recycling Bins
---
Convenience Store Advertising Trash Cans & Recycling Bins
Convenience Store and Gas Station Island Advertising Trash Cans
The HS36 Series trash and recycling enclosures are heavy-duty, ADA compliant products that are a good choice where accessibility compliance is key. They are user friendly, maintenance friendly and made to last years in any environment.
With built-in advertising frames, these attractive and durable steel receptacles are perfect for gas islands or in front of convenience stores. Advertising media is easy to change and the outdoor model has provisions for media on the body as well as the top. An optional window washing module completes the set.
These bins are often referred to as "Gas Station Auto Attendant Garbage Cans."
---
Convenience Store Advertising Trash Can
The Securr Convenience Store advertising trash can is perfect for outdoor use such as gas islands. The can also boasts a large 36 gallon capacity that is both heavy-duty and ADA compliant.
Outdoor advertising trash cans have the following features:
Standard outdoor configurations which include full-sized ad panel frames on front and rear of base as well as smaller ad panel frames on front and rear of hood which are angled for easy viewing.
Ad frames that are great for branding or logos or for revenue-generating ads.
Ad frames that can be added or deleted to include one to four sides of the base.
Branding and logos can be permanently affixed without ad frames.
Removable 36 gallon liner included.
Dual magnetic door latches.
Flush key lock.
Optional window washing equipment module for gas island use.
Bolt-down provisions included.
Full-length piano hinge for durability.
Optional flap door available.
Side-opening service door.
Corrosion-resistant galvanized steel construction and powder coat finish.
Outdoor advertising trash cans are also available in any color. Standard colors include black, white, fir green, olive green, forest brown and sky blue.