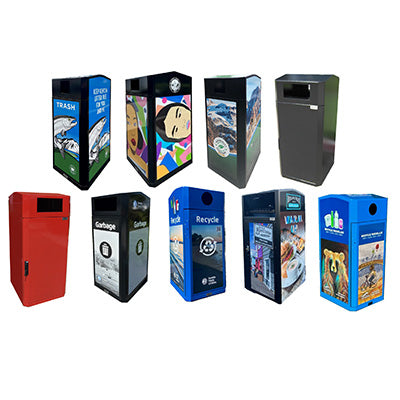 Cart Garage - Trash and Recycling Enclosures for Automated and Semi-Automated Collection
---
Cart Garage - Trash and Recycling Enclosures for Automated and Semi-Automated Collection
Trash Can Enclosures Provide Innovative Solution for Cities, Parks & Businesses. Available in three sizes; 95 gal, 65 gal and 35 gal.
Watch our brief video for a first-hand look at the quality and features that make Securr's Trash Can Enclosure a remarkable solution to reduce injury, enhance appearance and generate additional income.
---
Video Transcript: Securr's Trash Can Enclosure (Cart Garage)
This is the Securr cart garage, a sturdy attractive metal enclosure for wheeled plastic receptacles used for curbside collection. The cart garage is ideal for use where waste collection already utilizes a truck that can tip and empty waste carts.
The cart garage is perfect for parks, city streets, businesses and other curbside pick-up applications.
The wheeled cart is locked safely inside the cart garage but is easily serviced by opening the door and rolling the cart out. The cart can be rolled to the truck location for emptying, then returned to the cart garage and locked away.
The cart garage eliminates the need for workers to lift heavy loads of trash manually and thus reduces the potential for worker injuries. Options include a variety of standard or custom colors, anti-graffiti clear coat, and custom graphics options. Thanks for watching. For more information, give us a call, or visit the Securr products website at trash-cans.com Contact Securr today for a fast and friendly quote on
Trash Can Enclosure
/ Cart Garage