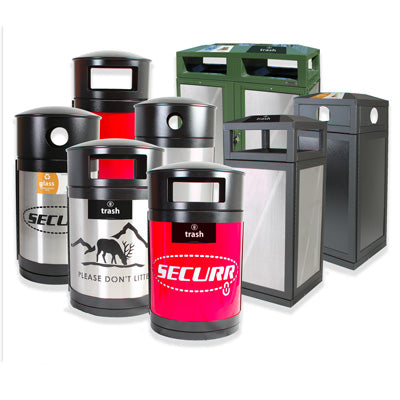 ---
City Trash Cans and Recycle Bins
Trash cans used in city streets and buildings must meet certain standards of durability while also offering aesthetic appeal and ample space for waste. At Securr, we take pride in developing and manufacturing the best city trash cans in the industry. Not only are our city trash cans and city garbage bins designed to be long lasting, but they have also been created to offer ease-of-use while meeting the unique needs of the cityscape.
Keep it Simple with Securr City Trash Cans
Each of the city trash cans available on trash-cans.com has been specifically designed for the unique environment of the city. Fabricated with corrosion-resistant galvannealed steel, our city garbage bins and recycling receptacles are resistant to rust and capable of performing well in all weather conditions. With their stainless steel hinges and high-grade UV-resistant powder coat finishes, our city trash cans are capable of providing years of trouble-free service. With all of our receptacles featuring side-opening doors for easy service, our city trash cans are easy to use and to maintain. Animal-resistant trash and recycling receptacles are also available for those areas where animal tampering may be a problem.
Take Your Trash Cans to the Next Level with Securr
In addition to creating a durable and long-lasting produce, Securr is also dedicated to creating city trash cans designed to meet a variety of needs. Not only are our trash cans available in a number of different capacities and designs, but all of our receptacles are highly customizable. Whether a city logo, an inspirational motto or an image to suit the cityscape, our city trash cans can become an attractive addition to any building or street. The powder-coated panels are also available in a variety of colors to match or offset the frame and top. To learn more about Securr city trash cans, take a moment to browse through our extensive online inventory. Or, give Securr a call at 1-888-671-7066. We'll be happy to help you find the city garbage bins and recycling cans to suit your unique needs.
---
Securr Outdoor Trash Cans and Recycle Bins…Made in the USA
Available with several side panel styles. Side panels are replaceable in case of damage or new design requirements.
Two standard outdoor top options available for trash and recycling. Custom openings also available upon request.
Made from heavy-gauge corrosion resistant steel. Will not rust under any environmental circumstances.
Side opening door for easy emptying. Reduce risk of back injuries by avoiding removal of content out from top. Stainless steel door hinge standard.
Bolt down holes located on the inside.
Choice of several standard colors using UV resistant textured powder coat. Colors include: black, white, sky (light) blue, forest brown, fir green and olive green.
Standard decals available at no extra charge include: Trash, Recycle, Glass, Plastic, Aluminum and Recycle symbol. Custom lettering and graphics available with up-charge.
Rigid plastic liner standard and included. Swings out bag racks are available at no extra cost if preferred.
ADA Compliant
---
Guardian Series
The SECURR Guardian 35 and 55-gallon Litter Receptacle is an accessible, ADA compliant unit consisting of a frame and lid made of high grade galvannealed steel, and high quality steel or polycarbonate panels.
The Guardian Series has two top options for trash or recycling. Custom cut-outs are also available for various recycling streams such as paper and e-waste.
The lids are configured for either outdoor or indoor applications, with trash or recycle opening options. The construction of this receptacle is designed for heavy use and a long service life.
The Guardian Litter Receptacle has a side opening service door and comes standard with a rigid plastic liner. A swing-out bag rack is optional at no extra charge. The door is attached with a durable stainless steel hinge.
The Guardian Litter Receptacle is modular in construction, allowing for field replacement or change-out of the side panels and lids. Side panels are available in a variety of styles.
All latches, hinges and hardware are made of stainless or zinc plated steel. The receptacle frames are fabricated from corrosion-resistant 14 and 16-gauge galvannealed steel. The receptacle is finished inside and out with powder coating.
The finish is resistant to humidity, salt spray, fog, ultraviolet light, abrasion and chemicals. The receptacle is assembled with welds and 3/16"structural rivets.
Recycled content of galvannealed steel is a minimum of 30%; with a 25% post consumer recycled content.