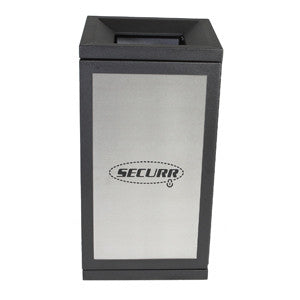 Indoor Recycle Bin, Square, Inward Sloping Top, Laser Cut Logo, Powder Coat Panels, 36 Gallon - HS45IR-IS-L-PS
Item: #HS45
---
IN-STOCK: Usually ships in 30-45 days depending on stock availability
---
For orders more than 24 units please call 888-671-7066 for a discount
Indoor Recycle Bin, Square, Inward Sloping Top, Laser Cut Logo, Powder Coat Panels, 36 Gallon - HS45IR-IS-L-PS
Outdoor Waste Receptacle, Advertising Frames,Outdoor Top, 36 Gal Capacity, ADA Compliant, Rigid Liner
SECURR® trash cans and recycle bins are the most durable, corrosion resistant products of this type available on the market today. Using heavy-gauge galvannealed steel frames and UV resistant powder coated finishes, these receptacles will endure many years of service in the harshest of environments.
Standard outdoor configurations include full-sized ad panel frames on front and rear of base.
Ad frames can be used for branding/logo or revenue generating ads.
Designed to accommodate .040-.090 thick ad panels.
Branding/logo panels can be permanently affixed without ad frames if desired.
Available in any color. Standard colors include black, white, fir green, olive green, forest brown and sky blue.
Bolt-down provisions included.
Full-length piano hinge for durability. .
Side-opening service door.
Corrosion-resistant galvannealed steel construction and powder coat finish.
Using side opening doors, the contents are removed from the side instead of the top to prevent costly back injuries. The rigid liner (included) is easily removed from the side fast and easy maintenance. Aesthetically pleasing yet manufactured using high-grade materials and finishes, these elegant and durable trash cans and recycle bins are a great choice for any application.
MECHANICAL SPECIFICATIONS
All handles, striker plates and hardware are zinc coated for corrosion resistance. The stainless steel door hinges are heavy-duty piano hinge material. The housing and doors are made from corrosion resistant steel and are finished using a textured powder coat process. The finish is resistant to humidity, salt spray, fog, ultraviolet rays, abrasion and chemicals. 
---