When Aesthetics Count Choose the 32-Galloon TRD32-02 Receptacle
Posted by Ryan Rockwood on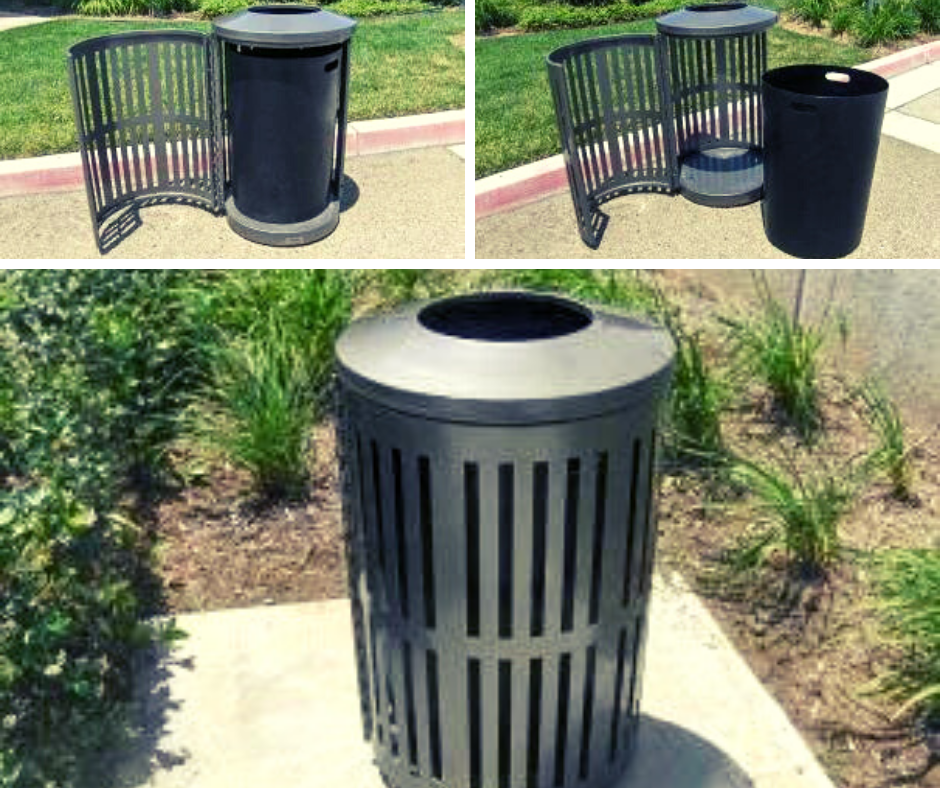 Trash is a fact of life. No matter where we are – whether it's at home, at work, or at play – trash and recycling are things that must be managed properly. Having a simple system in place for your trash keeps your environment clean and healthy. But your trash and recycling receptacles don't have to simply be utilitarian. They can also contribute to the beautiful environment you've worked hard to create. That's why we now offer the TRD32-02 decorative trash can. Let's take a closer look at how this trash can provide both durability and pleasing aesthetics.
Decorative indoor/outdoor receptacle meets all your needs
The TRD32-02 trash can is suitable for both indoor and outdoor environments. These heavy-duty, 32-galloon receptacles can be used for trash or recycling and are designed with a round shape and slatted sides. Manufactured from corrosion-resistant recycled materials, these containers are sturdy and will offer you many years of trouble-free service. Emptying is made easy with side-opening doors and a 32-gallon rigid plastic liner comes standard with every can. They are also ADA Compliant.
Holds up in any harsh environment
Like all of our trash receptacles here at Securr, the TRD32-02 is made using high-grade materials and finishes. All handles, striker plates, and hardware are zinc-coated to provide exceptional corrosion resistance. The housing and doors are made from corrosion-resistant steel with stainless steel hinges made from piano hinge material. The TRD32-02 is finished using a textured powder coat process that is resistant to humidity, salt spray, fog, ultraviolet rays, abrasion, and chemicals. When you need a trash can that is both beautiful and can withstand any environment, the TRD32-02 is an excellent choice.
Created to your specifications
One of the best things about the TRD32-02 is the ability to customize your can. Choose from our standard colors or request a custom color. Side designs can be custom-made to your specifications. You can also choose from a variety of labels indicating what should be deposited in the can. This includes:
Mixed Recycling

Paper, Cans, and Plastic Bottles

Glass, Cans, and Plastic Bottles

Cans and Plastic Bottles

Paper

Glass

Cans (Aluminum, Steel, and Tin)

Plastic Bottles and Jugs

Landfill

Trash

None
Superior customer service
What makes Securr stand out from the competition is our ability to engineer, manufacture, and sell our trash cans. When you purchase from Securr, you are buying directly from the factory and cutting out the middle man. Not only does this save you money, but it also means that our customer service representatives are fully knowledgeable about what each of our products has to offer. We are also able to address any specific needs you have by creating custom-designed receptacles just for you.
Shopping made easy
Finally, shopping with Securr couldn't be easier. We accept Visa, MasterCard, or PayPal and can ship to any residential or commercial public street address in the 48 continental states from our factory in Ontario, California. If you have any questions, our customer service team is standing by ready to answer your questions. We can be reached at 888-671-7066 or via email at sales@securr.com. You can also contact us through our website.
Contact Securr today
Are you ready to finally find a trash or recycling receptacle that meets all your needs?? Then contact us at 888-671-7066 or sales@securr.com! We are eager to help you make the right decision with confidence. Contact us today!
---
Share this post
---
---
---
0 comment