Customizing Your Trash Cans is Easy with Securr
Posted by Ryan Rockwood on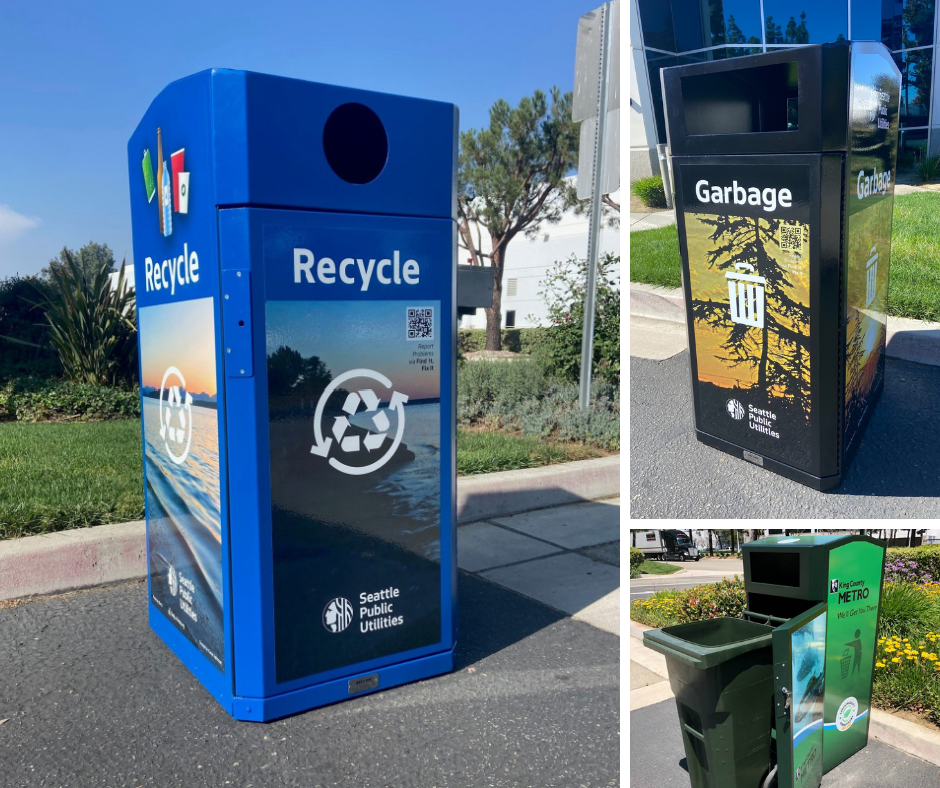 We know that you understand how important waste management is for your business. That's why here at Securr we've spent years perfecting the design and manufacture of trash cans and recycle bins that will fit a variety of needs and uses. But have you thought about how your trash cans and recycle bins can not only help you manage waste but also promote your business? Let's take a closer look at how you can customize your bins and enclosures to maximize your investment.
Receptacles to fulfill every need
First things first – the Securr factory in Southern California has complete manufacturing capabilities that offer a wide range of process capabilities. We use state-of-the-art  Computer-Aided Design (CAD) software to design quality products that are understood by our computer numerically controlled (CNC) machines. This means we can produce new precision products both quickly and easily. We offer a wide range of trash can types, including:
Animal-proof trash cans

Billboard trash and recycling receptacles

Collection cans

Custom-designed waste receptacles

Garbage carts

Indoor waste receptacles

Medical kiosks

Out-of-home advertising waste bins

Outdoor trash cans and recycling bins
We also offer a wide range of bear-proof containers through our line of BearSaver trash cans and receptacles. Whatever you need, Securr can create!
Platform for advertising
Whether you're using trash cans and recycling bins indoors or outdoors, they can serve a secondary function. Our bins provide the perfect platform for advertising your business or organization. Your investment can pay for itself when you include customized messaging, advertising, or branding. You can even turn your receptacles into revenue-generating advertising space! We offer a wide range of products that can include a custom message, such as our advertising receptacles. These feature frames that will hold standard print shop media that can be removed and replaced whenever you desire. You can also opt for permanent messaging or imaging, such as your company logo, which can be displayed on top or laser-cut into customized panels. You can also customize the color of the powder coating to your company's colors. Don't miss out on this valuable opportunity to promote your business or organization and give it a well-polished and professional appearance!
All products can be modified or customized
Because of our unique design and manufacturing process, Securr can offer customization and/or modification on every product we manufacture. Not only do we offer a huge range of products from urban park and city street receptacles to towel return stations and ballot drop boxes, but we can also customize any product we have available. Because fabrication capabilities are all in-house, we can meet virtually any waste receptacle need you have at the lowest cost possible. Our high-grade materials and finishes ensure your receptacles will enjoy a long life. And many of our parts are interchangeable, so maintenance and repair are simple.
Contact Securr today
Are you ready to take your waste receptacles to the next level? Then contact us at 888-671-7066 or sales@securr.com today! We would be delighted to help you explore all the available options.
---
Share this post
---
---
---
0 comment