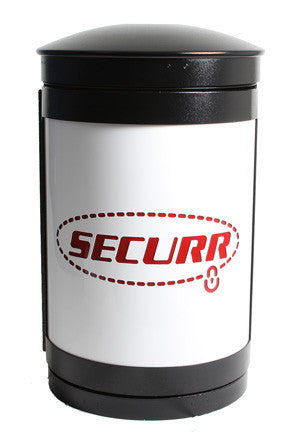 Indoor Recycle Bin, Round, Laser Cut Logo, Powder Coat Panels, 35 Gallon - HS35IR-L-PS
Item: #HS35
---
IN-STOCK: Usually ships in 30-45 days depending on stock availability
---
For orders more than 24 units please call 888-671-7066 for a discount
Indoor Recycle Bin, Round, Laser Cut Logo, Powder Coat Panels, 35 Gallon - HS35IR-L-PS
Waste Receptacle with custom Laser-Cut Image On Stainless Steel, Indoor Top,35 Gal Capacity, ADA Compliant
SECURR® Standard and Decorative waste and recycling receptacles are 35 gallon, heavy-duty, ADA compliant products that are a great choice where aesthetics and durability are key. Made from corrosion resistant recycled materials, these attractive, sturdy containers will secure your contents while offering many years of trouble-free service. Multiple panel options are available; including custom laser cut, solid stainless steel, perforated stainless steel, and powder coated colors.
Using side opening doors, the contents are removed from the side instead of the top to make emptying easier. A standard swing our bag rack makes changing bags fast and efficient and provides a full 35 gallons of capacity. A 24 gallon rigid plastic liner is optional at no extra cost. Aesthetically pleasing yet manufactured using high-grade materials and finishes, these receptacles provide exceptional corrosion resistance for the harshest of environments.
A high quality locking latch is included.
MECHANICAL SPECIFICATIONS
All handles, striker plates and hardware are zinc coated for corrosion resistance. The stainless steel door hinges are heavy-duty piano hinge material. The housing and doors are made from corrosion resistant steel and are finished using a textured powder coat process. The finish is resistant to humidity, salt spray, fog, ultraviolet rays, abrasion and chemicals. 
---