Disney Trash Cans
Posted by David Moore on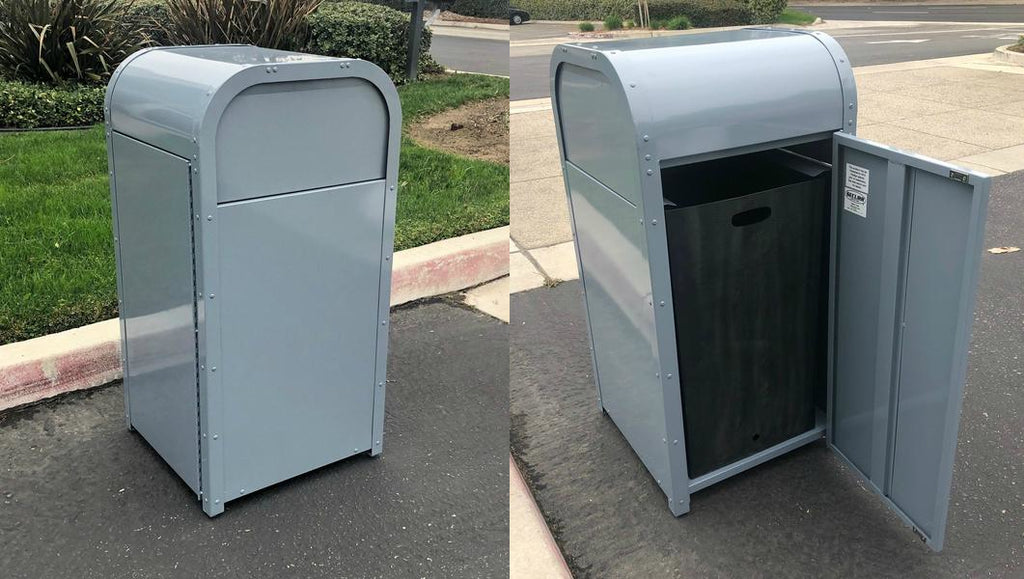 Trash buildup over the last century has become a huge problem for mankind. Even with countless initiatives to reduce, reuse, and recycle, there are still growing numbers of trash heaps both on land and at sea. While we are still working to figure out how to drastically reduce our waste, we can at the very least ensure that we dispose of it correctly. Even Mr. Walt Disney himself knew how important it was to instill cleanliness and tidiness in his parks. At Securr we value these principles along with our love for the Disney theme park trash cans.
According to research, most people are willing to walk to a trash can that is 30 feet away. Anything more, and they are likely to chuck their garbage anywhere. Considering how large Disney theme parks are, it would come as no surprise for each park to contain hundreds of these theme park trash cans.
Disney Theme Park Trash and Recycling Cans: What Makes Them Special?
Rumor has it that our Outdoor Theme Park Style Trash Can, inspired by the original Disney trash cans, is a design that can be traced all the way back to Walt himself. The door design of the waste receptacle ensures that the smell is kept inside and guests do not have to see the trash every single time they lift the lid to throw something in. This simple but functional approach that we have left unchanged.
The recycling version had a simple entry point that kept its contents even more hidden from sight. Since its ingenious creation, the Disney-style trash can has been widely used in many other parks through the years.
Differentiating Our Disney Inspired Theme Park Trash Cans From Our Disney Inspired Recycling Cans
To some people, there might not be any difference between the two. This is both true and false. Both cans are designed to ensure that spaces are kept neat and trash is out of sight and out of mind. There is however one primary difference between the two, at least in terms of design.
Theme park trash cans: Securr cans are designed with a curved top to provide an appearance that is smoother and seamless compared to traditional commercial garbage cans. The Disney inspired design has swinging flaps where people can push their trash into, and the main doors that the custodians could access are away from the view of park goers. We offer a selection of colors and labels that our customers can choose from.
Recycling bins: These on the other hand have a single hole, perfect for depositing empty bottles into. This key element instantly helps people differentiate the recycling container from the trash can with ease. Unlike the bins at Disney, buyers can easily purchase Securr Outdoor Theme Park Recycling Cans which are designed to resist corrosion and like our trash cans, they too can be customized to suit your style.
What to Expect When Selecting a Disney Theme Park Trash Can
While it would be difficult to come across an original Disney theme park trashcan for an affordable price, it is possible to purchase one from us.
We've tried to keep the design as close to the original as possible but with a few minor changes to ensure they last longer. Securr cans are powder-coated and made from galvanized steel. These corrosion-resistant cans are often available in 36-gallon capacity. The access door for custodians remains the same and is designed to be almost invisible. Perfect for parks, stadiums, city streets, etc., these cans can be purchased unpainted or in a basic color, making them easily customizable, just like how the original Disney cans were made to fit every theme.
The Throwaway
In essence, it is possible to interchange the use of each vessel. However, for many people, the association of the swinging flaps is already delegated towards a trash can. Regardless of how you choose to use Disney trash cans and recycling cans, the beauty in the overall design is the ability to allow customization as a user sees fit while providing a receptacle for our trash. Disney did have the right idea of ensuring that garbage was managed without sacrificing the look of his beloved parks, and we've carried on this tradition by offering the same features in a design reminiscent of the original.
---
Share this post
---
---
---
0 comment