Indoor Pharmaceutical Disposal Bin, 38 Gallons - MW01-P: Ensuring Safe and Secure Pharmaceutical Waste Management
Posted by Securr Blogger on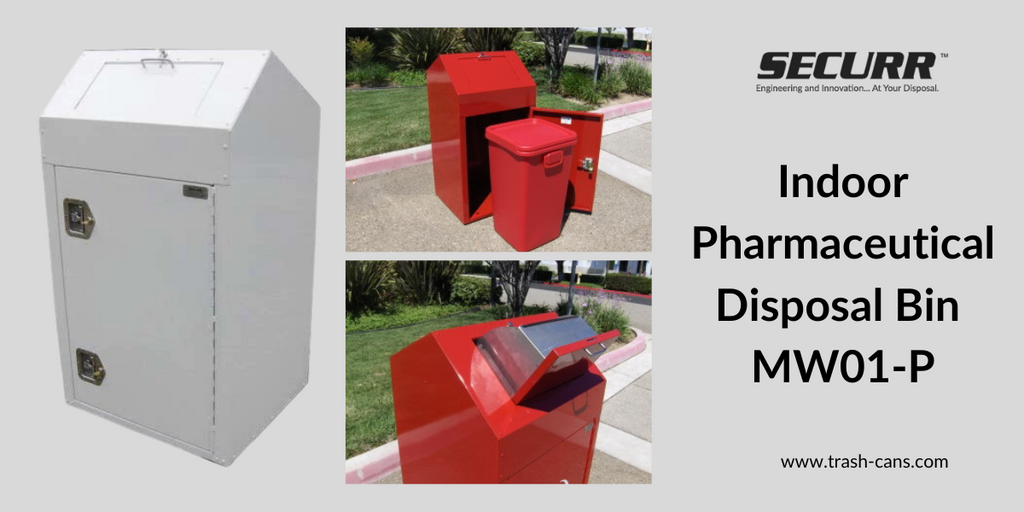 In the realm of healthcare, the proper disposal of pharmaceutical waste is not just a necessity; it's a responsibility. Securr understands this crucial aspect and presents the Indoor Pharmaceutical Disposal Bin, 38 Gallons - MW01-P, a robust, ADA compliant solution designed for both durability and aesthetics. If you are in search of a secure, efficient, and aesthetically pleasing pharmaceutical waste disposal system, look no further.
Design and Functionality
The MW01-P Pharmaceutical Collection Bin boasts a 38-gallon capacity, ensuring ample space for pharmaceutical waste disposal. Its ADA compliant design guarantees accessibility for all users. The bin features a chute-type loading door, ensuring the contents remain secure until accessed through the designated service door. This mechanism not only prevents unauthorized access but also maintains the safety standards required for pharmaceutical waste disposal.
Dual Lock System and Approved Liner
This disposal bin includes a dual lock system on the unloading door, enhancing security. The package comes complete with an approved medical waste liner equipped with a lid. This liner can be efficiently removed and transported, facilitating seamless disposal processes.
Durability and Material
Crafted from corrosion-resistant galvannealed steel, this disposal bin ensures years of trouble-free service. Galvannealed steel, a cold-rolled steel with a galvanized coating, provides excellent corrosion inhibiting properties. The textured powder coat finish enhances its durability, making it resistant to humidity, salt spray, fog, ultraviolet rays, abrasion, and chemicals. Every component, from handles to hinges, is meticulously designed for optimal performance and longevity.


Specifications
Weight: 135 lbs
Assembled Dimensions: Width: 26 in, Height: 49 in, Length: 23 in
Origin: Shipped from Ontario, California 91764
Warranty: 1 year

Benefits for GSA and CMAS Qualified Buyers


Qualified buyers under GSA and CMAS can avail special discounts on this pharmaceutical disposal bin. For personalized quotes and further inquiries, please contact Securr at 888-671-7066 or email them at sales@securr.com.

In summary, the Indoor Pharmaceutical Disposal Bin, 38 Gallons - MW01-P by Securr stands as a testament to the company's commitment to safety, durability, and functionality. By investing in this state-of-the-art disposal solution, healthcare facilities can uphold their commitment to responsible waste management while ensuring the safety and well-being of both staff and the environment.

Note: For specific pricing details and to place an order, kindly reach out to Securr using the contact information provided above.
---
Share this post
---
---
---
0 comment