Secure and Durable ADA Compliant Outdoor Sharps Disposal Bin: A Must-Have for Safe Medical Waste Management
Posted by Securr Blogger on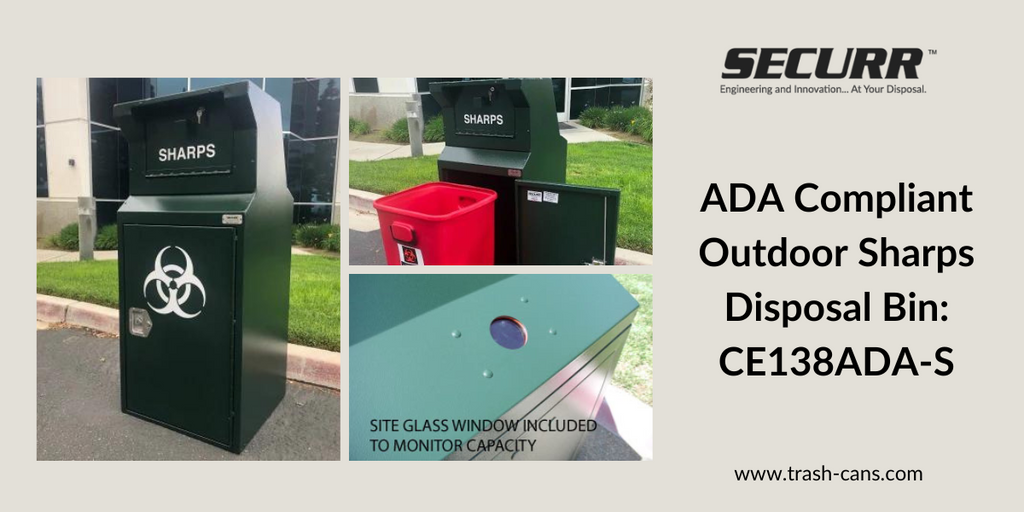 In healthcare facilities and public spaces, the safe disposal of medical sharps and pharmaceutical waste is a top priority. To meet this critical need while ensuring both security and aesthetic appeal, Securr presents the ADA Compliant Outdoor Sharps Disposal Bin, with a generous 38-gallon capacity, designed to safeguard and streamline the disposal process. In this article, we will explore the key features and benefits of this essential waste management solution.

Meeting ADA Compliance with Unparalleled Durability
Securr Sharps Disposal Kiosks are engineered to meet the rigorous standards of the Americans with Disabilities Act (ADA), ensuring that individuals with disabilities can access and use the disposal bin without any hindrance. This ADA-compliant bin comes equipped with a single lock cabinet, approved medical waste liner, and a user-friendly "chute" type loading door. The loading door ensures that the contents are securely deposited and cannot be accessed until the service door is unlocked.
What sets the Securr Sharps Disposal Bin apart is its exceptional durability. Crafted from corrosion-resistant galvannealed steel, these bins not only provide an attractive appearance but also guarantee years of trouble-free service. Galvannealed steel, a cold-rolled steel with a galvanized coating, boasts excellent corrosion inhibiting properties. Additionally, its ability to adhere powder-coated finishes ensures a long-lasting, aesthetically pleasing appearance, even in the harshest outdoor environments.

Unparalleled Build Quality for Ultimate Security
The loading chute is lined with stainless steel, enhancing both security and longevity. Inside the heavy-gauge steel enclosure lies a regulated medical waste liner with a lid that can be easily removed and transported. This liner boasts a substantial 38-gallon capacity, reducing the frequency of disposal and the associated maintenance costs.
To ensure the utmost durability and resilience, all handles, striker plates, and hardware are zinc-coated for corrosion resistance. The stainless steel door hinges are crafted from heavy-duty piano hinge material, guaranteeing smooth and reliable operation. The housing and doors, constructed from corrosion-resistant steel, undergo a textured powder coat process that provides resistance to humidity, salt spray, fog, ultraviolet rays, abrasion, and chemicals.

Specifications and Ordering Information
Item #: CE138ADA-S
Weight: 262 lbs
Assembled Width: 26 in
Assembled Height: 57 in
Assembled Length: 24 in
Shipped From: Ontario, California 91761
Warranty: 1 year
Special Offer for GSA and CMAS Qualified Buyers
Qualified buyers under the GSA and CMAS programs are eligible for an exclusive discount on this ADA-compliant outdoor sharps disposal bin. To request a quote or learn more about this special offer, please contact Securr at 888-671-7066 or email them at
sales@securr.com
.
In conclusion, the Securr ADA Compliant Outdoor Sharps Disposal Bin stands as a testament to excellence in medical waste management. Its superior construction, ADA compliance, and generous capacity make it an indispensable choice for healthcare facilities, public spaces, and any environment where secure, durable, and aesthetic waste disposal is essential. Secure your medical waste disposal needs with confidence by choosing Securr's Outdoor Sharps Disposal Bin.
---
Share this post
---
---
---
0 comment