Secure Your Environment with Securr Indoor Sharps Disposal Bin, 38 Gallons - MW01-S
Posted by Securr Blogger on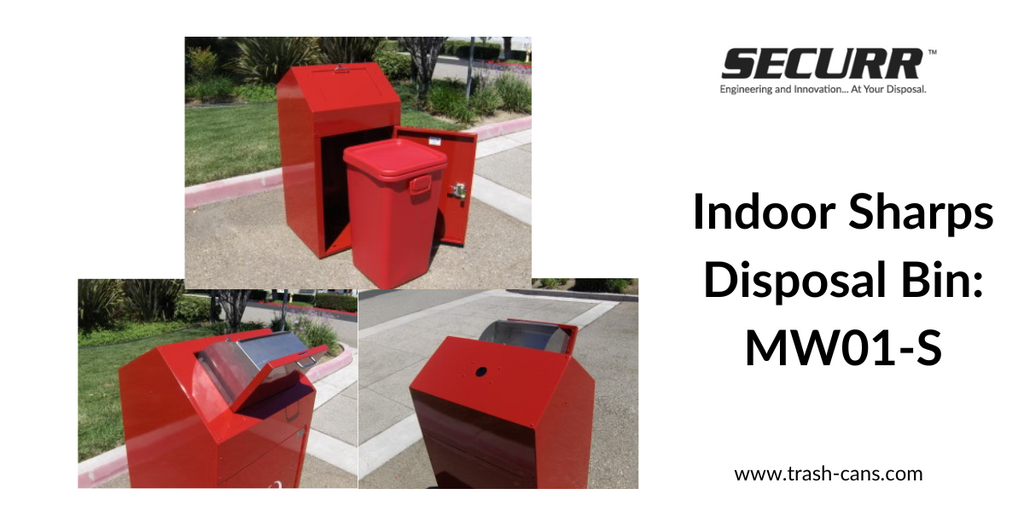 In the realm of healthcare, safety and security are paramount concerns. Proper disposal of sharps, such as needles, syringes, and other medical instruments, is not just a matter of convenience but a vital necessity. Enter the
Indoor Sharps Disposal Bin, 38 Gallons - MW01-S
from Securr, a game-changer in the world of medical waste management. This heavy-duty, ADA compliant disposal kiosk offers an amalgamation of functionality, durability, and aesthetics that makes it an indispensable choice for medical facilities, ensuring a secure and seamless disposal process.
Design and Functionality
The
MW01-S Sharps Disposal Bin
boasts an innovative "chute" type loading door, a mechanism designed to enhance security. Once the contents are deposited, they are securely locked inside until the service door is intentionally unlocked. This design ensures that the disposed sharps cannot be accessed without proper authorization, safeguarding both the environment and the people within it. Additionally, the MW01-S can also serve as a pharmaceutical disposal unit, offering versatility to healthcare facilities.
Materials and Durability
Constructed from galvannealed steel, this disposal bin is corrosion resistant, ensuring longevity and reliability. Galvannealed steel, a cold-rolled steel with a Galvanized coating, possesses excellent corrosion inhibiting properties and offers superb adherence for powder coated finishes. The heavy-gauge steel enclosure houses a regulated medical waste liner with a lid, boasting a substantial capacity of 38 gallons. This combination of robust materials and intelligent design ensures not only secure disposal but also years of trouble-free service.
Aesthetics and Practicality
The MW01-S Sharps Disposal Bin is not just a utilitarian product; it also incorporates aesthetics into its design. The textured powder coat finish not only enhances its visual appeal but also makes it resistant to humidity, salt spray, fog, ultraviolet rays, abrasion, and chemicals. The bin is thoughtfully designed to fit indoor environments seamlessly, offering practicality without compromising on style.
Technical Specifications
Weight: 135 lbs
Assembled Width: 26 in
Assembled Height: 49 in
Assembled Length: 23 in
Shipped From: Ontario, California 91764
Warranty: 1 year
Special Offer for Government Buyers
For qualified buyers under GSA and CMAS, there's an added advantage – a special discount awaits you. To avail this offer, simply get in touch with Securr via phone at
888-671-7066
or email at
sales@securr.com
for a customized quote tailored to your specific requirements.
In conclusion, the Securr Indoor Sharps Disposal Bin, 38 Gallons - MW01-S, stands as a beacon of excellence in the realm of medical waste management. Its robust construction, smart design, and aesthetic appeal make it the ideal choice for healthcare facilities aiming for secure, efficient, and visually pleasing sharps disposal solutions. Don't compromise on safety or style – choose MW01-S for a cleaner, safer, and more secure environment.
---
Share this post
---
---
---
0 comment