Keep City Streets Looking Great with this Locking Trash Can from Securr
Posted by David Moore on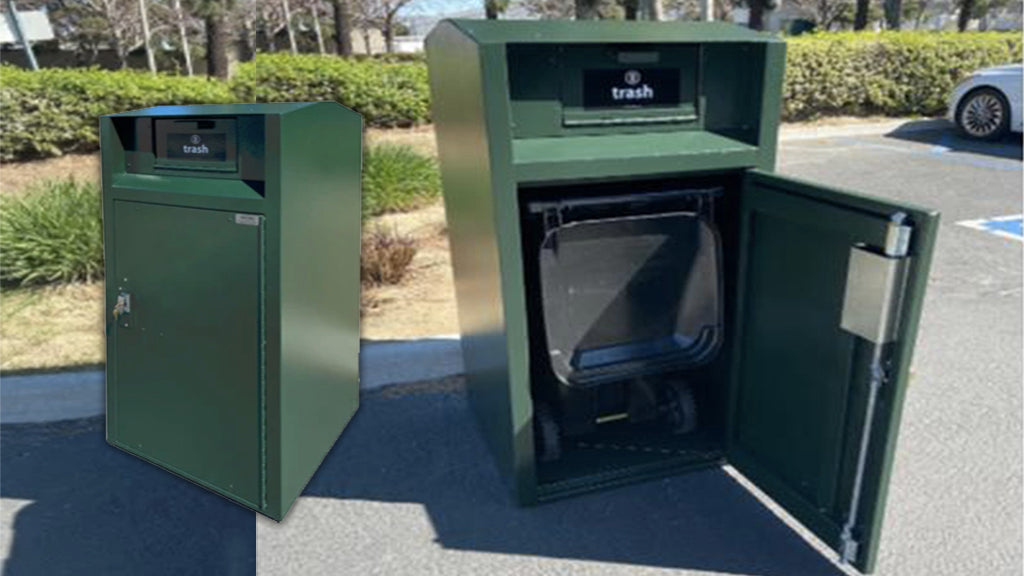 Ideal for any urban environment, the 45-Gallon Locking Trash Can with Loading Chute and Cart Garage (Item #CE135M-CH) is people, animal and rodent-resistant. As such, you can trust this receptacle to hold and maintain all of your waste without being disturbed by people or animals of any kind.
A Simple Answer to a Complex Problem
With many municipalities having automated cart pick up systems in place for collecting waste, both homeowners and business owners need a receptacle that will meet their needs while also working with the automated system that is currently in use. This 35-gallon locking trash can from Securr is designed to be used with the automated system, eliminating the need for a second set of equipment to handle the waste. Even better, this heavy-duty enclosure is weather proof and animal proof, which means it can be safely set outside on the city streets without concern for being damaged by weather or infiltrated by rats and other rodents.
Keeping the Streets Attractive
In addition to keeping the trash where it belongs – inside of the waste receptacle – this locking trash can also offers an attractive design that is great for use on city streets, in parks or at municipal buildings. Not only is the design itself attractive, but the receptacle is also available in a variety of standard colors. These include: black, forest brown, olive green, fir green, sky blue and white. If these colors don't meet your needs, custom colors are also available. A variety of label options are also available for this receptacle. These include:
Paper

Glass

Cans (Aluminum, Steel and Tin)

Mixed Recycling

Cans and Plastic Bottles

Plastic Bottles and Jugs

Paper, Cans and Plastic Bottles

Glass, Cans and Plastic Bottles

Landfill

Trash

 
You can also choose to have no label on the receptacle if that is what best suits your needs.
Providing Quality You Can Trust
This high-quality locking trash can is constructed with stainless steel door hinges and heavy-duty piano hinge material along with a galvanealed steel frame. In addition, the handles, hardware and sinker plates that are zinc-coated for added corrosion resistance while the housing and doors are made from corrosion-resistant steel with textured powder coat finishing. This finishing is resistant to salt spray, humidity, ultraviolet rays, fog, abrasion and chemicals.  
Meanwhile, the ADA-compliant design features a top-loading pull-down chute, which makes it easy to operate when putting trash inside the receptacle. The design also makes it impossible to remove the contents without unlocking the receptacle. Yet, removing the cart, which comes included with the receptacle, is a simple process. Simply open the door and roll out the cart when the waste needs to be removed. Not only does this keep the waste securely in place, but it also helps to prevent back injuries by eliminating the need to lift the waste up and out.
Overall, this receptacle weighs 304 pounds and measures 26 inches wide, 56 inches tall and 27 inches long. As with all Securr products, it also comes backed with a one-year warranty.
---
Share this post
---
---
---
0 comment