Metal Food Court Waste Receptacles Ideal for Outdoor Food Service Areas
Posted by Securr Blogger on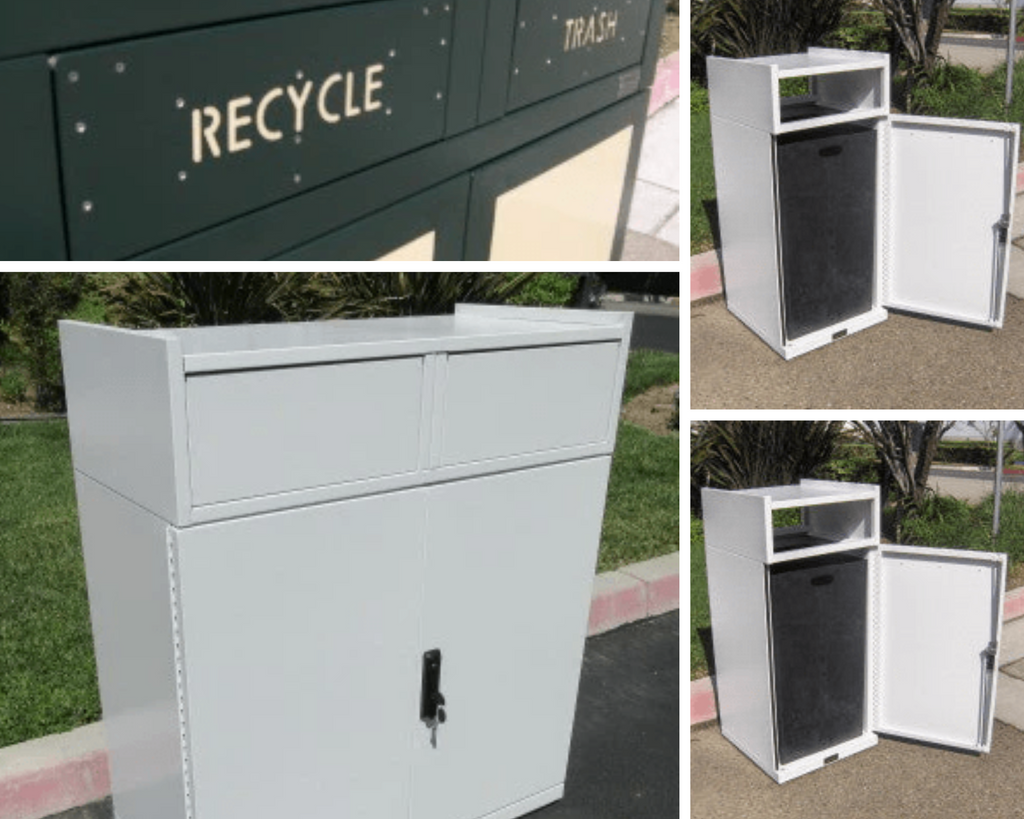 If you operate a food service location, then you know how important food waste receptacles can be. While molded plastic and melamine waste receptacles are widely used at indoor food service locations, these types of containers are not suitable for use outdoors or in other demanding environments. That's why Securr has designed our line of metal food court waste receptacles that are ideal for outdoor food service areas. Offering pleasing aesthetics and ease of use, these food waste receptacles feature superior craftsmanship and are made to last.
Designed to withstand the elements
For locations where a more robust food waste collection system is needed, Securr now offers a line of metal food waste receptacles. These are designed for outdoor food courts and picnic areas and constructed with corrosion-resistant galvaneeled steel and a high-grade UV-resistant powder coat. This finish is resistant to humidity, salt spray, fog, UV rays, abrasion, and chemicals. The stainless steel door hinges are made with heavy-duty piano hinge material and all handles, striker plates, and hardware are zinc-coated for corrosion resistance. That means Securr's food waste receptacles will hold up in any environment and provide many years of reliable service. They are also ideal as towel returns for poolside locations.
Made with ease of use in mind
Each of Securr's food waste receptacles features food tray return shelves on top of the container for easy collection of 20" x 17" trays. The bin includes a 36-gallon rigid plastic liner and a two-point locking latch. Optional flap doors can be installed to keep insects and other critters out and odors in, while also keeping unattractive garbage out of sight. The bins use a side-opening service door which makes accessing the contents fast and easy. This also eliminates the risk of back injuries from pulling contents out from the top. They are also available with optional push-in loading doors for additional protection of the contents.
Customization is easy with Securr
As with all of our products, Securr offers customization options for your food waste receptacle. The units can be enhanced with several different graphics options. These include advertising panels, messaging panels, or logo panels. We are pleased to work with all of our clients to design a food waste receptacle to fit your specific needs. Because we have developed a unique design and manufacturing process, we can offer customization and/or modification on every product we manufacture at our facility in Ontario, California. Because all of our fabrication capabilities are in-house, we can meet virtually every waste receptacle need you have while providing the lowest cost possible. Our materials and finishes are high-grade so that your receptacles will have a long life. And many of our parts are interchangeable, so repairs and maintenance are a breeze.
Contact Securr today
Would you like to talk with one of our representatives about our line of food waste receptacles? Then contact Securr at 888-671-7066 or sales@securr.com. Contact us today to get started! Our team of experts is standing by to answer any question you may have and to help you find the perfect product with confidence.
---
Share this post
---
---
---
0 comment