Securr Makes the Best Trash Cans for Convenience Stores and Gas Stations
Posted by Securr Blogger on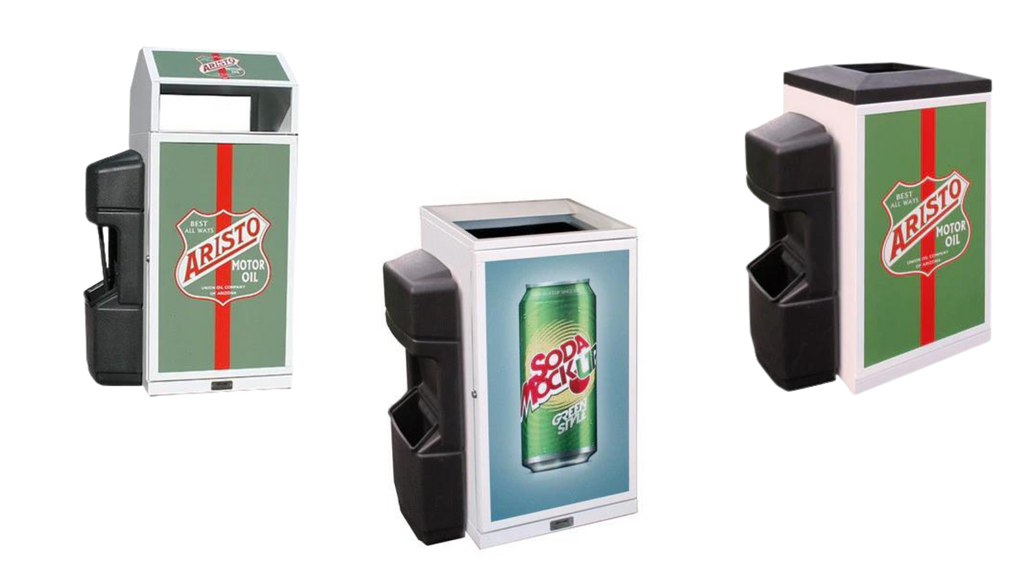 When searching for waste receptacles for your convenience store or gas station, durability and aesthetics are both highly valuable. That's why Securr has created our line of Convenience Store Advertising Trash Cans and Recycling Bins. These attractive, heavy-duty steel containers are perfect for outdoor use such as gas islands, and are ADA-compliant. With built-in advertising frames, they also offer the opportunity to maximize your investment. Let's take a closer look at what makes these bins perfect for this application.
Available in several configurations
These waste receptacles come in a variety of configurations to best suit your exact needs. Outdoor cans offer an upper hood that helps to keep trash secure even in inclement weather. We also offer two indoor Convenience Store Advertising Trash Cans including the FX36-ADVERT and the HS361W-ADVERT. All Convenience Store Advertising Trash Cans come with advertising panels to display your messaging. You can also add an optional Windshield Washing Attachment to any of these products.
Keeps high-traffic areas clean and attractive
The Securr Convenience Store Advertising Trash Can is both sturdy and attractive and holds up to 36 gallons of trash. All of the configurations feature dual magnetic door latches with a flush key lock and a removable 36-gallon rigid plastic liner inside. The receptacles are constructed with corrosion-resistant galvanized steel and a powder coat finish, allowing them to hold up even under harsh environmental conditions. Units can be bolted down for safety and are manufactured with a full-length piano hinge for durability. All units are ADA-compliant and will provide many years of trouble-free service. 
Offers multiple advertising opportunities
Our Convenience Store Advertising Trash Cans display advertising or brand messaging to customers at the gas pump or as they enter the store. These receptacles come with two full-size advertising frames on opposite sides of the base. This allows your messaging to face customers at the pumps. You can add more frames to the other two sides of the receptacle as well. Units with upper hoods also feature two small advertising panel frames on both the front and rear of the hood. These are angled for easy viewing. Branding and logos can also be permanently affixed to the receptacles without ad frames.
Customization is available
The Convenience Store Advertising Trash Cans come in an array of standard and custom colors including Fir Green Texture, Black Texture, Olive Green Texture, Sky Blue Texture, and Forest Brown Texture. For cans that will be used for recycling collection, Securr has partnered with Recycle Across America to offer society-wide standardized recycling labels. This makes recycling clear and easy for your customers. And because we design and manufacture our own products, we can customize or modify any container.
Contact Securr today
Would you like to learn more about our Convenience Store Advertising Trash Cans or any of our other high-quality products? Then contact Securr at 888-671-7066 or sales@securr.com. Our Customer Service Representatives are standing by and eager to assist you, so contact us today!
---
Share this post
---
---
---
0 comment